Read more: http://www.pokernews.com/news/2011/06/2 ... -10609.htm




During Thursday's World Series of Poker bracelet ceremony, there was a kid standing stage left wearing basketball shorts, a fresh pair of black Air Jordans, a lime green t-shirt with the words "Future Billionaire" on it, and a black baseball hat turned backwards. He stood fairly emotionless, until WSOP Vice President and Tournament Director Jack Effel pronounced his name, Jason Mercier, incorrectly. He gave a laugh as he walked forward, shook Effel's hand and accepted his second bracelet in three years.

A few minutes later, during the playing of the "Star Spangled Banner," Mercier initially forgot to take his hat off.

"Jay!" his friend Dan O'Brien hissed from the crowd, pretending to take an imaginary hat off his head.

Mercier quickly obliged, removing his hat with one hand while patting down his uncombed hair with the other.

"I knew he'd take heat for it if he accidentally kept it on," O'Brien later told me.

O'Brien is not only good friends with Mercier, he's one of his three main horses alongside Allen Bari and Brent Hanks. I like to call the four "Team Mercier," a term used by Bari on his Twitter account, but with so much success on the Circuit you would think that Mercier has more horses, right?

"It's mainly us," Bari explained. "Jay has some of Phildo's (Phil Collins) online action, but that's about it."

Perhaps keeping it small was a great idea - Mercier and his three ponies have crushed thus far at the WSOP.

In total, the four players have made five final tables, won two bracelets, and banked over $1.8 million (up to 25th June). Mercier, who shipped one of the two bracelets, will see the majority of that money, and when he's not deep, he's constantly sweating his three horses. During the final table of Event #4, Mercier was not only watching Bari, though, he was being somewhat critical from the rail.

"Hey!" Bari shouted from his seat after Mercier suggested he play more aggressive. "Let Secretariat run his race."

Mercier discontinued his coaching for the time being, but as soon as play ended for the evening, he had friend and fellow Team PokerStars Pro Vanessa Selbst to talk to Bari about applying more pressure with his huge stack.

"He won't listen to me," Mercier chuckled.

The next day, Bari finished the job, eventually defeating Maria Ho heads up for the bracelet and the cash.

During Hanks' final table run in Event #23, Mercier was sweating him during the last level of play on Day 2. While Mercier was watching, Hanks capped a limit hold'em hand on the turn with the board reading
. On the river
, Hanks fired one more bet, his opponent called, and to Mercier's great surprise, Hanks opened up
for just two pair. His opponent mucked, and Hanks shipped a massive pot to make him one of the chip leaders.

"When did the kid get so sick!" Hanks joked after the hand.

"I could've sworn he had nines-full," Mercier commented.

But he wasn't complaining, he trusted Hanks to make the right decision – and he did. Unfortunately, Hanks was unable to make hands at the final table, and exited in fourth place.

O'Brien was the next horse to make a final table, finishing fourth in Event #26. He got his money in good with against Oleksii Kovalchu's on a flop of . Kovalchu spiked on a diamond on the turn, though, sending O'Brien to the rail.

When asked who's going to have the next deep run, O'Brien said it's going to be him.

"I've got to win one of these," he said with conviction.

Whether it's O'Brien, Bari, Hanks, or Mercier himself, there is surely a strong possibility that we see another member of Team Mercier at yet another WSOP final table. And, since the projections show that the field size is going to be much smaller, I am going to call my shot and say we see at least one member at the $50,000 Poker Players Championship final table. Bari finished 12th in the event last year, Mercier is clearly a mixed-games monster, and if Hanks and O'Brien happen to get put in, there is no doubt in my mind that they can parlay their recent success into a deep run.

However, while the four can do no wrong at the moment, Bari is desperate for a name change.

"Forget Team Mercier," Bari told me with a grin. "It's all about Team Bari."

Whatever the name, these four are making their mark on the 2011 WSOP, and Mercier is making a lot of dough in the process



And how it began:



Read more: http://insider.espn.go.com/insider/insi ... id=6402542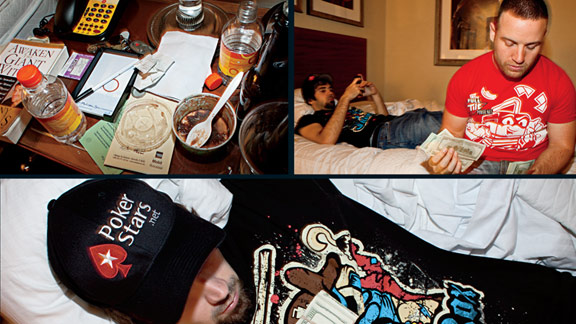 FIVE MINUTES BEFORE the start of the PokerStars Caribbean Adventure main event, poker pros Allen Bari and Dan O'Brien meet with fellow pro Jason Mercier. The three friends say their hellos, then Mercier, as nonchalant as if he were buying a round of beers, gives Bari and O'Brien each $10,000, the buy-in for the tourney. Ordinarily, when Mercier gives them a large scale buy-in, something he's done dozens of times, it's in stacked 100-dollar bills or two $5,000 chips. Today, though, he hands each a white, palm-size ticket with a face value of 10 G's. During the exchange, the 24-year-old Mercier, ESPN's No. 3-ranked player, who has made nearly $5.2 million in 32 months as a pro, offers no words of encouragement. He also doesn't ask when he'll be repaid. Despite the combined $300,000 that O'Brien and Bari owe Mercier, none of them seems concerned about settling up.

These types of big-money exchanges are regular occurrences before poker tournaments. In this world's vernacular, Mercier "backs" or "stakes" Bari and O'Brien. For the past few years, the three have had an arrangement. Mercier pays all their tourney buy-ins (both online and live). In return, O'Brien and Bari, two of Mercier's "horses," share with him all of their winnings.

To pro gamblers, the practice has become as common as a three-bet. According to a PokerStars survey of 56 of the online-poker company's sponsored pros, 52 said that at some point they had either backed a player or been backed themselves. "There's no way to tell the numbers for certain," says Eric Baldwin, the 2009 Card Player Player of the Year, who's also playing here at the Atlantis Paradise Island, Bahamas. "But at an event like this, I'd say around 40 percent of the players are staked."

And if 40 percent of poker pros, some of the best number crunchers on the planet, are betting on other poker pros, you'd think staking must be good business practice.

You'd be wrong.

--------------------------------------------------------------------------------

HORSES AND BACKERS find each other in a variety of ways. Some post ads on Twitter, or on sites like twoplustwo.com, parttimepoker.com and pocketfives.com. Sometimes the two are simply old friends. Or, as is often the case, they meet at a tournament. Mercier talked with O'Brien at a lunch break during the 2008 World Series of Poker. A few months later, at Caesars Palace Las Vegas, they reconnected and O'Brien introduced Mercier to his buddy, Bari. Mercier asked O'Brien, 26, if he was going to play in an upcoming $10,000 tournament. No, the Long Island native replied, because the buy-in was too pricey. "He'd gotten third in a World Series event in June," Mercier says. "And from our conversations about poker I knew he knew what he was talking about. So I offered to put him in the $10K event." Without ever having seen O'Brien play a single hand, a backing deal was born. A year later, after a similar conversation, Mercier started footing entry fees for Bari, 26.

While the terms of backing deals are as diverse as a Pinkberry counter -- single tournament versus multiple events is just one variable -- Mercier and his horses settled upon a 50-50 split "with makeup," a common arrangement that calls for the horse to start getting a share of his winnings only after all the entry fees and buy-ins are recouped. After defining the terms, the two did what poker pros have been doing for decades after making a deal: nothing. No lawyers. No paperwork. "Gamblers aren't like Wall Street scum," says Daniel Negreanu, poker's all-time No. 2 biggest tournament earner. "We're respectable people. They need contracts; we just need our word."

Then again, successful pro poker players make suitcases full of money. Why would they want or need to be staked in the first place? In truth, talented pros have many excuses to seek backing. One common reason is leaks. Plenty of good players have had cash shortages after too many drugs, craps or NFL over-under bets. The lifestyle doesn't help either; gamblers are notorious spendthrifts. But ask most players, including Bari and O'Brien, and they say they seek backing because of variance, the statistical term used to describe the deviation in results over time. Or, as laymen refer to it, luck. Good poker players finish in the money in about 17 percent of tournaments they enter. But poker is a streaky sport, and even elite pros don't necessarily cash once every seven events. They might go 0-for-14 over the course of a few months, then make three final tables in their next seven tournaments. Before the 2003 poker boom, players could more easily weather an 0-for-21 storm. In 2000, for example, the WSOP featured 25 events with only four $5,000 buy-ins and one $10,000. An entire year of buy-ins back then ran $25,000 to $50,000.

But in today's poker world, the cost of playing poker has shot up. Last year, the WSOP had 57 events, including six $5,000 buy-ins, 10 $10,000s, one $25,000 and a $50,000. All told, one year of buy-ins now can run upwards of $500,000, and that doesn't factor in flights, hotel rooms and pricey casino food and drink, tabs that backers don't typically pick up. "It's easy to shell out $300,000 to $400,000 without a significant score," says 2005 World Poker Tour champ Gavin Smith, who's been backed by fellow pro Erick Lindgren since 2004. "That's too much money for me to have out there at one time."


But Mercier saw Bari, O'Brien and other potential horses as an investment. In April 2008, he won $1.37 million at the San Remo European Poker Tour event, only the second live tournament he'd ever entered. "I'd heard staking was lucrative if you just find some good players," he says. And what touring pro hasn't heard stories of staking lore? Billy Baxter paid $10,000 for Stu Ungar to enter the 1997 WSOP main event, then shared the $1 million prize when Ungar won. Lindgren pocketed a nice chunk of a Josh Arieh $2.5 million payday in 2004. And there's always the legend of "Bax and Sheets," the secretive staking duo of Cliff "JohnnyBax" Josephy and Eric "Sheets" Haber, who supposedly rake in money every year with a stable of 30 to 100 horses (both Bax and Sheets, pros themselves, declined to be interviewed for this story). Poker players like to better their odds, so it stands to reason that if Mercier has 10 horses plus himself in a tourney, he's got 11 chances to make a final table.


That's the glittery lettering on the front of poker's version of a lottery ticket. The reality is, backing rarely pans out. If Mercier had 11 chances to cash in the same tournament, he also has guaranteed lots of chances to bust. Both O'Brien and Bari had early spurts of success for him. During one stretch in 2008, O'Brien grossed more than $100,000. Bari had a brief tear last spring, pulling in almost $300,000 over six weeks. But neither has shown consistent returns, and since June both horses have come up lame. As of early April, after several years of being staked by their backer, O'Brien had cost Mercier a total of $200,000, and Bari was down another $100,000. "It's been insane," says O'Brien. "Since March 2010, I've only cashed a handful of times in over 60 events."

For all of his investment woes, Mercier seems relaxed. He's certainly not worried about going broke. Despite backing six horses (only one of whom turns a profit, but "not much"), the Florida native continues to rake it in himself and has a lucrative PokerStars sponsorship. He isn't mad, either. If his arrangement with Bari and O'Brien ended tomorrow -- backers can end deals when they choose, while horses can end a deal only when they're in the black -- Mercier insists that the three would remain friends. But Mercier is frustrated. As he preps to enter himself into the PCA, he laments how his players never seem to get the right hand in the right spot. "My horses may not be the best players in the world," he says. "But they can't be as bad as their results have been."

Last year, Mercier discovered he had plenty of company in the red. At the WSOP Europe, the subject of staking arose during one hand. When a player asked if anyone had backed others, eight of nine people at the table raised their hands. Had anybody won? None of the eight raised their hands. Was it a good experience? Everyone laughed.

According to many backers, the hassles aren't worth the investment. Negreanu may scoff at Wall Street scum, but later he says: "Would I recommend backing? Absolutely not."

Perhaps not surprisingly, poker players aren't all sure-thing investments. Jamie Gold, the 2006 WSOP Main Event winner, had a civil suit filed against him by TV executive Crispin Leyser, who claimed he'd helped Gold get staked for his $12 million win. (The two later settled, for an undisclosed amount.) And everyone in the business has stories of horses with multiple backers, horses with six-figure makeups ditching one backer to play for another, horses trying to welch after a big score. Then there are the contradictions between the pro poker lifestyle (freedom to play when you want, how you want and as much as you want) and the responsibilities of backing and being staked (record keeping, organizing, coordinating).

Finally, throw in what might be the biggest problem with gamblers backing other gamblers: misjudgment. Most backers are successful players themselves, who think they can spot talent. Guys like Mercier start to believe that if they can find horses half as good as they are, everybody wins. It's only now that Mercier is realizing that most other pros can't get anywhere near the results he does. And even then, with the losses piling up for Mercier, he seems to be in denial when he talks about being $300,000 in the hole. "I know they're good players," Mercier says. "They know they're good players, but sometimes I feel like they're the unluckiest guys I've ever met."

Being staked has downsides too. Long hours of grinding, live and online, help players hone skills and offset variance. But without a worry of going broke, O'Brien isn't motivated to sit in front of a computer all night hoping to split $2,000 at the end of the night. He'd rather clean up in cash games (backing deals generally apply only to tournament play) to pay the bills, then roll the dice with Mercier's money in the bigger tourneys. "You can get a little lazy," he admits.

Yet the most fundamental problem of staking deals goes far beyond losing cash or getting lazy. Poker is supposed to be an individual sport. But what happens when a backer and a horse find themselves at the same table? With no rules requiring disclosure of backing deals, many tournament directors, fans and even players have voiced concerns that the game can become a team sport. "In that situation it's almost impossible not to 'soft play,'" says former WSOP Main Event winner Joe Hachem, referring to the term in which players fail to bet or raise because they don't want to cost someone else money.


There is no shortage of allegations about players checking down with quads because a horse was at the same table, but that's as far as the conversation ever goes. Players can claim they misread their hand or, most times, cards can be folded (and never shown) suddenly without explanation. Policing, therefore, isn't possible until significant rule changes are enacted. Yet with no centralized governing body -- and no uproar from the players, by the way -- don't expect a backing ban anytime soon. "There are a lot of people who think staking arrangements should be publicly known when you start a tournament," says Lance Bradley, editor in chief of Bluff Magazine. "But I don't imagine we'll ever see an organized movement."

--------------------------------------------------------------------------------

ON DAY 5 of the PCA Main Event, Bari, Mercier and O'Brien are in their room at the Atlantis. Clothes litter the floor. A wad of hundreds is piled on the dresser. Both horses have busted out of the Main Event ... and a $5,000 no-limit event ... and a $2,000 event. The mood isn't exactly festive. "It's the same s---," O'Brien says. "Not this tournament in particular, but an accumulation of disappointment."

He's ridden out plenty of cold streaks, but this one has him scratching his head. "I might be better off if Jay stopped backing me," he admits. "It would take away that long-shot payday I keep trying for. Force me to grind more. I'm looking forward to our being friends, without this business relationship."

Mercier, who's sharing the room with his horses, just listens nearby. He isn't ready to cut them off -- yet. "There are limits," he says, citing the rising make up figures. "I have a number in mind, but I keep it to myself."

Bari opens the heavy curtains. Sunlight floods the room. He gazes at the swimming pools and waterslides 23 stories beneath him. "I'm concerned too," he says. "But it will eventually turn around. We're two of the best players in the world -- in the top 1 percent."

He pauses for a moment in the light.

"And there's another tournament tomorrow."